How to Choose the Perfect Tea Gift for Any Occasion?
In a world where stress and hustle seem to be the norm, gifting someone a moment of calmness and warmth can be an extraordinary gesture. And what better way to offer this delightful experience than through a tea gift pack? Among the many options available, Mabroc Tea Collection Gift Set stands out as an exceptional choice. In this blog article, we will explore the art of gifting and guide you through the process of selecting the perfect tea gift pack for any occasion.
Understanding the Importance of Gifting
Gifting is more than just exchanging material items; it is a way to express love, gratitude, and appreciation for the people we care about. The act of giving a thoughtful tea collection gift set can convey a deep understanding of someone's tastes and preferences, showing that you value their well-being and cherish their presence in your life.
The Versatility of Tea Gifts
One of the most appealing aspects of tea gift sets is their versatility. Whether it's a birthday, anniversary, holiday celebration, or a simple thank-you gesture, a well-chosen tea gift pack can suit any occasion. From creating a relaxing tea ritual at home to sharing joyful moments with friends and family, these sets bring comfort and joy to all who receive them.

Mabroc is renowned for its exceptional quality teas sourced from the finest tea gardens worldwide. Their gift tea collection combines artistry with the finest ingredients, offering an extraordinary range of flavors and aromas. From classic blends to exotic infusions, Mabroc's tea gift packs provide a journey through diverse tea cultures, making them a standout choice for any tea enthusiast.
Factors to Consider When Choosing a Tea Gift Pack
1. Taste Preferences:
Take into consideration the recipient's taste preferences. Do they enjoy strong black teas, delicate green teas, herbal infusions, or fruit infusions? Mabroc's varied selection ensures there's a perfect match for everyone.
As per the tea type preferences, you can get an understanding of the tea gift that you need to select from the below section.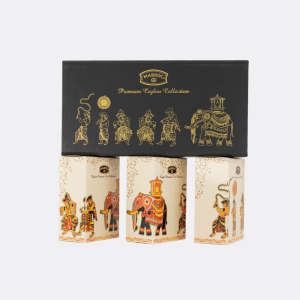 Gifts for Tea Lovers
Black Tea: Perehara Premium Ceylon Collection
Indulge in the unique essence of Ceylon loose black tea sourced from Sri Lanka's enchanting Nuwara Eliya, Dimbulla, and Ruhuna regions. This exquisite blend captures the vibrant spirit of the island's revered Perehara parade, an ancient and culturally significant celebration.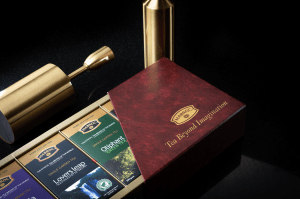 Black Tea and Green Tea: Single Garden Gift Presenter, Single Estate Tea Collection
Presenting a perfect assortment of Ceylon teas, carefully curated from four of our finest plantations. This exclusive Single Garden Origin tea collection boasts a attractive display, elegantly encased in striking red packaging.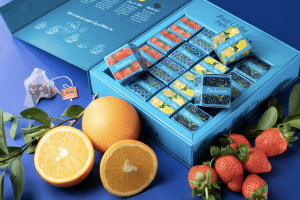 Fruit Teas: Fruit Tea Infusion Gift Pack, Fruit Tea Collection Gift Pack
Fruit Tea Infusion Gift Pack
Discover our delightful Fruit and Tea Infusion Gift Pack, featuring 16 exquisitely wrapped pyramid tea bags, each infused with real fruit pieces, ensuring a truly delightful and authentic taste adventure. Enjoy four distinct varieties of fruit-infused teas, with 4 tea bags each, including luscious strawberry infusions, succulent blueberry infusions, refreshing citrus & mint infusions, and rich blackcurrant infusions. Savor the natural goodness in every sip.
Fruit Tea Collection Gift Pack
Experience a delightful journey through the Mabroc fruit tea collection, where the tantalizing essence of premium Ceylon teas blends harmoniously with fruity flavors. Each box holds 40 individually wrapped tea bags, ensuring absolute freshness with every infusion. Treat your taste buds to a symphony of tropical sunset, invigorating minty lemon, comforting winterberry, and exotic soursop twist. Embrace the fruity bliss with each sip from this vibrant assortment.
2. Occasion:
Tailor the tea gift set to the occasion. For celebrations, go for elegant and luxurious packaging, while a simple and practical set suits casual events or expressions of gratitude.
3. Presentation:
The way the gift pack is presented can add a touch of elegance and make the experience even more memorable. Mabroc's attention to detail in packaging makes their collection a delight to behold.

4. Additional Accessories:
Consider adding extra accessories like a stylish teapot, infusers, or tea cups to enhance the tea-drinking experience further.
Tea Accessories
Elevate your tea-drinking experience with the exquisite Mabroc glass cup set, featuring the Glass Square & Creamer set. Unlock the true essence of te
a as you indulge in Mabroc Tea Accessories' meticulously crafted glass cup sets, where a seamless blend of style and substance awaits. Make each tea time a memorable and unforgettable affair with this elegant collection.
5. The Joy of Sharing Tea is the Best Enjoyed When Shared with Others
Encourage the recipient to share the tea gift set with loved ones, fostering moments of connection and bonding over a steaming cup of tea.
In a fast-paced world, the art of gifting a tea gift pack from Mabroc's exquisite tea gifts offers a serene escape and a chance to appreciate life's simple pleasures. Choosing the perfect tea gift pack involves understanding the recipient's tastes, selecting the right occasion, and personalizing the experience. With Mabroc, you can be assured of presenting a gift that exudes elegance, quality, and thoughtfulness. So, whether it's a birthday, anniversary, or a simple token of appreciation, make every occasion special with the gift of tea.
Now you can easily order your tea gift from our online tea shop. https://mabrocteas.com/buy-ceylon-tea-online/